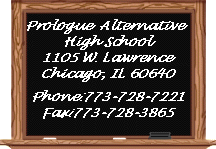 What we are about...
Education. Prologue Alternative H.S. has been serving the Uptown Community for 26 years. During this time, Prologue has graduated hundreds of students who were thought to be unteachable. With the smaller student body and friendly teacher staff, Prologue is able to reach out and grab the minds of young adults from around the city and inspire them to reach those "unattainable" goals. Here at Prologue the roots go much further than just the surface. Prologue is rooted to the foundation of knowledge with every class offered, from Alegbra II w/ Trigonometry to Woman's Studies and Manhood courses. Truly, education is a right, not a privilege.


Inside Prologue...

Prologue's has a course layout personalized for each students needs. Upon registration, new students are required to bring in a copy of the transcript from the last school attended along with other requirements for registration. The process for selecting new students is lottery. The lottery for new students occurs every quarter. Therefore, a student has four opportunities throughout the year to be admitted into Prologue. After the completion of the registration process, Prologue's staff formally accepts or rejects the applicant depending on such variables as availability of space, needs of the applicant, and the applicants intent. The courses are then scheduled according to your graduation requirements. Prologue rewards any student who works 10-15 hours per week for two continous semesters or 20-25 hours per week for one semester to receive one work credit. Prologue incorporates job readiness courses and college preparatory courses. Graduates are required to have a total of 19 credits, a minimum reading level of 9.5, and staff approval. Prologue is not free, but quality education couldn't be cheaper. Prologue formally has a $40 registration fee and $100 for each semester. Prologue keeps the registration fee and the rest goes to Truman College. The money Prologue gets is all raised by Nancy Jackson, the executive director. She does a wonderful job of keeping the school running by her constant persuit of funds.
Prologue's Future
Prologue wants to continue educating today's young adults in a with every resource possible. This year we have over 25 computers available for students, complete with four printers and a scanner. Our teachers have experience of fields from carpentry to accounting. We currently occupy the third floor at 1105 W. Lawrence and will soon have classes on the second floor. Prologue opens up oppurtunities in collaborating with Williams Youth Service's The School Without Walls and Woodlawn Intergenerational Alternative High School, both sister schools of Prologue.